When I had studied jewellery design, silversmithing and goldsmithing for some two years I was approached by one of my best friends in Finland with the inquiry of whether I could create an engagement ring for her. Pia-Maria and Peter met through mutual friends in their late-teens and in their early twenties they decided to make the commitment and promise to each other that they were to get married and spend the rest of their lives together.
In Finland it is common practice that the couple decide together to get engaged and they will together go choose rings which normally are plain yellow gold bands, or with a discreet pattern or metal colour contrast.
I was honored and excited to be given this task, which came with a complete artistic freedom. She asked for my educated opinion and ideas that spoke to me as the designer. The wonderful advantage to designing an engagement ring for Pia-Maria was that I had known her all of my life. I knew her sense of style and I knew what kind of wear she would expose the ring to. She is an active woman, practical but also very stylish and contemporary in her design taste. I wanted the ring to have a Scandinavian flare, but still feel unique to her and based on a concept that wasn't available in the mass-produced jewellery lines that existed then.
The ring was completed perfectly and I brought it with me when travelling to Finland next. I was so thrilled, but also nervous – as any artist or maker is upon delivering a piece you have created with your own bare hands but also soul. The excitement in Pia-Maria's and Peter's eyes when they saw the ring was unforgettable.
A few years later when I was working in Calgary, Alberta I got commissioned to complete the set by creating a wedding ring for her. Pia-Maria was hoping to combine yellow gold and white gold in her set, so I made a channel set diamond eternity band in white gold in 3mm and another plain yellow gold band in 3mm to go on the other side of the white gold band; to frame the white gold and diamond ring in the centre.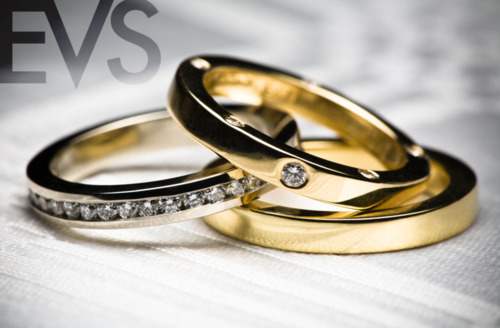 As per Finnish tradition the husband gives his wife a piece of jewellery the morning of their first day of marriage. I designed and created a pendant that tied in with the design of her rings; as per the discussions and thoughts Peter and I had shared on the design project. Again I was given free hands and knew immediately what I wanted to make for them.
I presented Peter with CAD drawings of a pendant in 18 karat yellow gold and 18 karat white gold, gypsy-set with 5 brilliant cut diamonds. He was so excited and pleased to give it to her, the first day that they were husband and wife.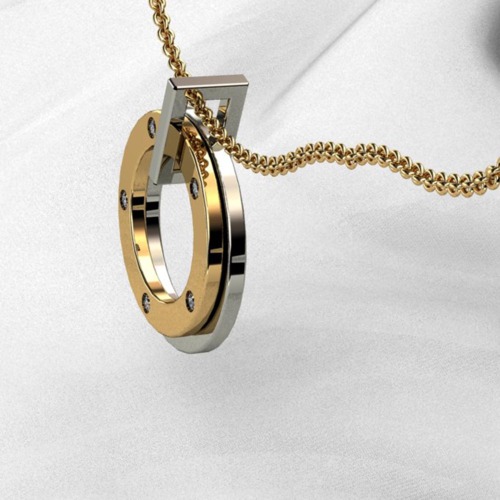 I had also been commissioned to create necklaces for the sisters of the bride as well as jewellery for myself and Marika who were honoured to be asked to be bridesmaids for Pia-Maria; we were an unbreakable trio of girls who grew up in the same village and became the closest of friends you could ever imagine, still to this date we are!